Zeagold Foods is New Zealand's leading producer of eggs. We strive to provide consumers with the best egg products in the world. It's a goal we take seriously, monitoring each stage of the process - from the flock's feed source and management, through to egg collection and further processing.
New Zealand's climate and natural surroundings lend themselves to producing quality agricultural products. Combine this with the country's geographic isolation and you have the world's safest environment for egg production.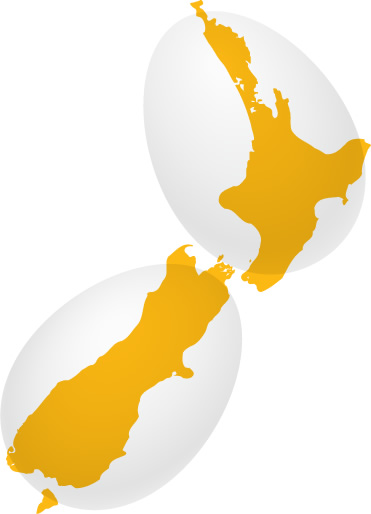 Quality:
Quality eggs, produces quality egg products. Egg quality depends on:
health of the laying flock, and
flock's feed makeup and quality.
Zeagold Foods is involved across the entire process, undertaking quality testing at every point of the egg production process. We have full control over both the laying flock and its feed inputs. In this way, we can optimise the quality of our eggs and therefore, our egg products.
The raw materials used in the flock's feed are tested to ensure they comply with the company's own strict specifications. Then, when in its final form, the feed is tested again, to check that it is delivering all of the flock's nutritional requirements. This pattern of testing and validation continues right through the egg collection, further processing and delivery phases - until the moment the final products arrive in your supermarket.
What makes a quality egg?: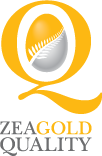 A combination of factors:
shell must be clean, sound, a healthy texture and shape
the albumen - or egg white - texture and viscosity is important
colour of the yolk
there should be no internal foreign matter within the egg
Once collected, the eggs are tested in an electronic Colorimeter testing machine, which assesses the yolk colour and egg white quality. Egg white quality is measured in Haugh units - an international standard developed by American researcher Dr R Haugh in the 1930s, which measures egg white density.
The higher the Haugh unit reading, the "tighter" the egg white will hold around the yolk and the better the egg quality. (We've all experienced an egg with a low Haugh unit reading. The white is thin and will spread out when fried or poached.) By objectively measuring eggs through the Colorimeter, Zeagold Foods can verify the results of its quality systems, then adjust any inputs accordingly.